What are the safety features available for the 2021 Mazda3?
Safety should be the number one priority in anyone's life. For Mazda, we take it to the next level with our new and improved i-ACTIVSENSE suite of safety features for our Mazda3 car model. The Mazda3 is here to protect you. No one should have to ride in fear of protection. Here at Tonkin Mazda of Portland, you certainly won't have to! So if you're looking for a 2021 Mazda3 Sedan in Portland, Oregon, stop by Tonkin Mazda near Vancouver because your safety comes first! Let's talk about some quality safety features included in the 2021 Mazda3 Sedan:
360 View Monitor
Our new Mazda3 car for sale in Portland, Oregon, has a 360 view monitor that allows for a more up, close, and personal view of the images around you. There are small cameras around the front, back and sides of the Mazda car that permits the 360 view monitor to display many different views around your Mazda on the connect screen. This also allows you to park better and avoid accidents. With this new feature, you can see how close you are to the lines of a parking spot or to the car beside you. 
Front and Rear Parking Sensors
Parking can become a hassle when you have no help. Thanks to our front and rear parking sensors in our Mazda3 Sedan, it doesn't have to be. These safety features make parking so much easier because it warns you when you're too close to another vehicle. You'll know this when a warning sounds and gets more frequent as you get closer to the vehicle or any object. Not to mention, it aids you to avoid potential accidents and other hazards. 
Rear Cross Traffic Alert
Another benefit of the Mazda3 car safety features for sale near Beaverton, Oregon, is the Rear Cross Traffic Alert. This new feature helps you stay safe when pulling out of a parking spot. It helps detect when a vehicle is approaching you from behind by quickly signaling an audible and visual warning to prevent an accident from occurring. These two alerts are located in the two side mirrors and rear view camera display.  
Smart Brake Support Rear Crossing 
There's also a Smart Brake Support Rear Crossing safety feature that is a major addition to the 2021 Mazda3 Sedan for sale. This safety feature is designed to help for better braking control when backing out of a parking spot. It also goes hand in hand with the Rear Cross Traffic alert because the Smart Brake assists you in control of your brakes when you receive the alert from the Rear Crossing feature.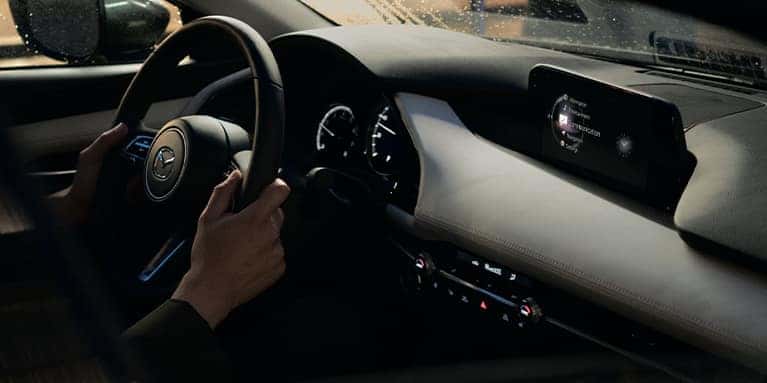 The all new 2021 Mazda3 Sedan available at Tonkin Mazda of Portland is designed to protect you at all costs. Here, at Tonkin Mazda near Gresham Oregon, we will make sure you experience that protection with our new Mazda3 Sedan. We also have a variety of trims to choose from so you won't be limited to your choices! Altogether, the new Mazda3 car has even more safety features that has the potential to make it the best Mazda car out of all models! At Tonkin Mazda, our sales team wants to help make your road trip experience more secure. Whether you're an experienced or new driver, this is the right car for you. Stop by Ron Tonkin Mazda of Portland in Portland, Oregon today to try out our new safety features. Be sure to check out our extensive online inventory and contact us today for more information!